Tarragon Gin Lemonade exists on a higher plane than other gin and lemon cocktails. Its slight anise flavor enhances the lemon and highlights the herbaceous tones of the gin.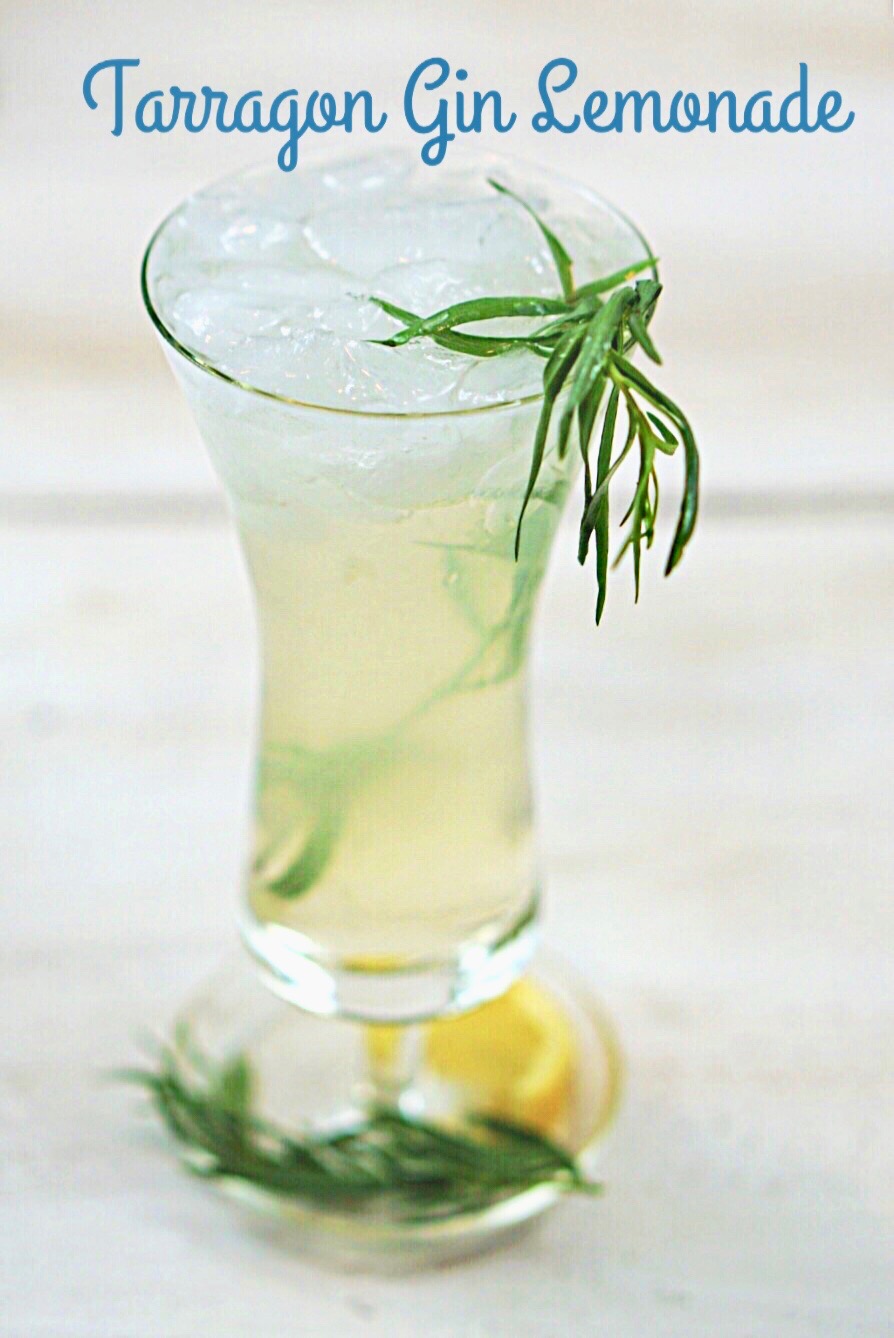 Could Tarragon in Drinks Become a New Favorite?
It's time to enjoy warm, summer days and nights on the patio with friends. My tribe and I love lemonade, and it's nice to put a bit of a twist on traditional lemonade. My ladies and I love a great cocktail, so Tarragon Lemonade becomes Tarragon Gin Lemonade with a splash of elderflower liqueur.
This Tarragon Gin Lemonade is the Flavor of Memories
If I could put my Aunt Marie's garden into a cocktail, this would be the one! It's fresh, light, herbaceous yet floral. This cocktail makes me want to take my tribe of girlfriends all the way to California to sit with my fantastic aunt and my wonderful, sweet Uncle Richard. I want to sit in their yard under the wisteria, amongst the flowers, veggies, fruits, and chickens and visit with my warm, loving, fascinating family! My tribe would love them all! This cocktail, to me, is that gorgeous garden, in a glass. The second name for this drink would be Aunty's and Uncle's Secret Garden.
I have recently become quite good friends with gin. There is a local distillery that has a high-quality gin for an affordable price. Summer flavors must be light yet flavorful and gin is the perfect choice. I could drink this cocktail all season long.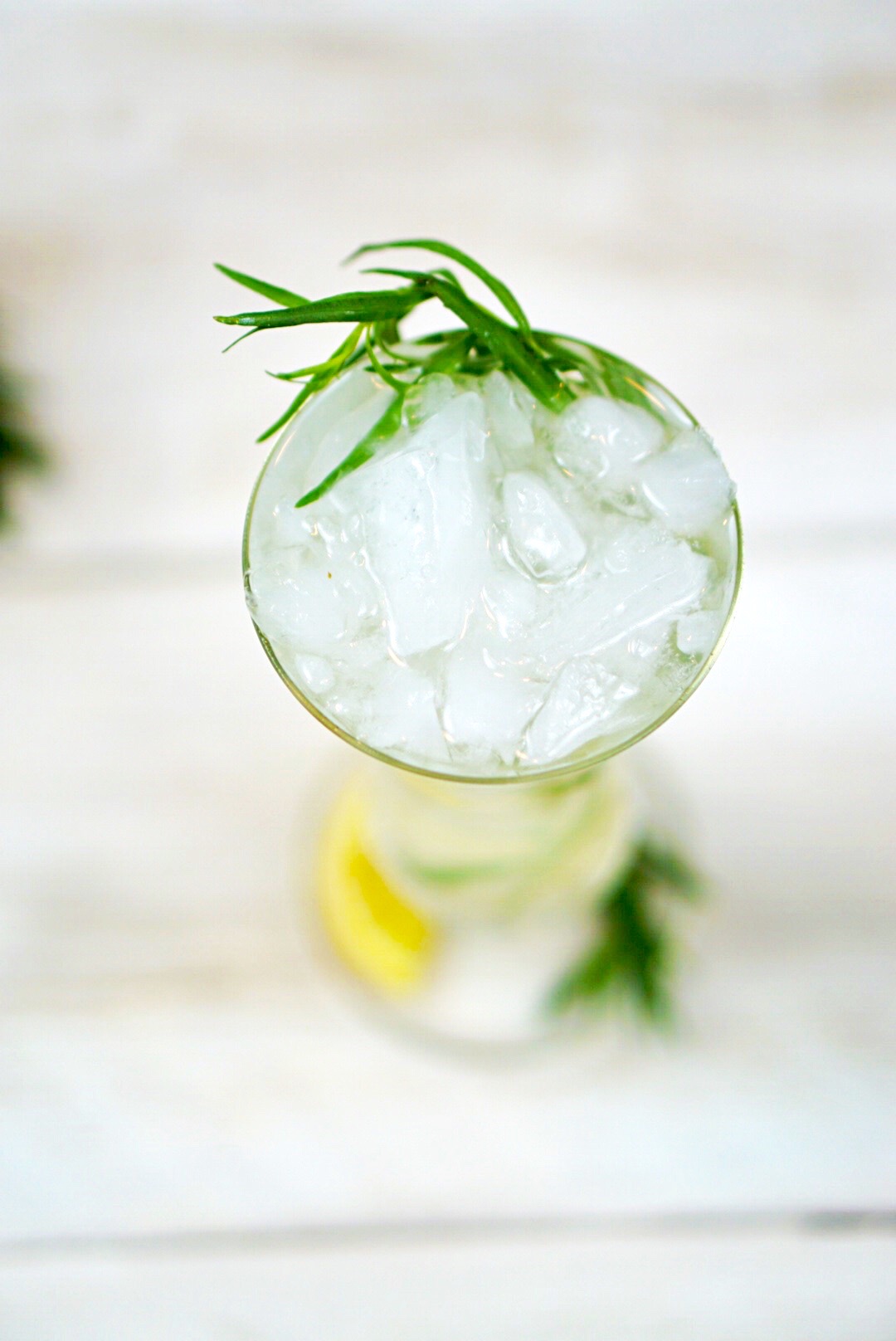 What Elements Make the Tarragon Gin Lemonade So Tasty?
There are a couple of essential elements that make this cocktail taste like a summer garden. First and foremost is the tarragon. It makes the flavors pop. Be sure that you don't obliterate the tarragon. It only needs bruising. If you muddle too much, it can become bitter. The second essential element is the elderflower liqueur. You only need a little in this cocktail to feel like you are sitting under the pergola breathing in the variety of blooms.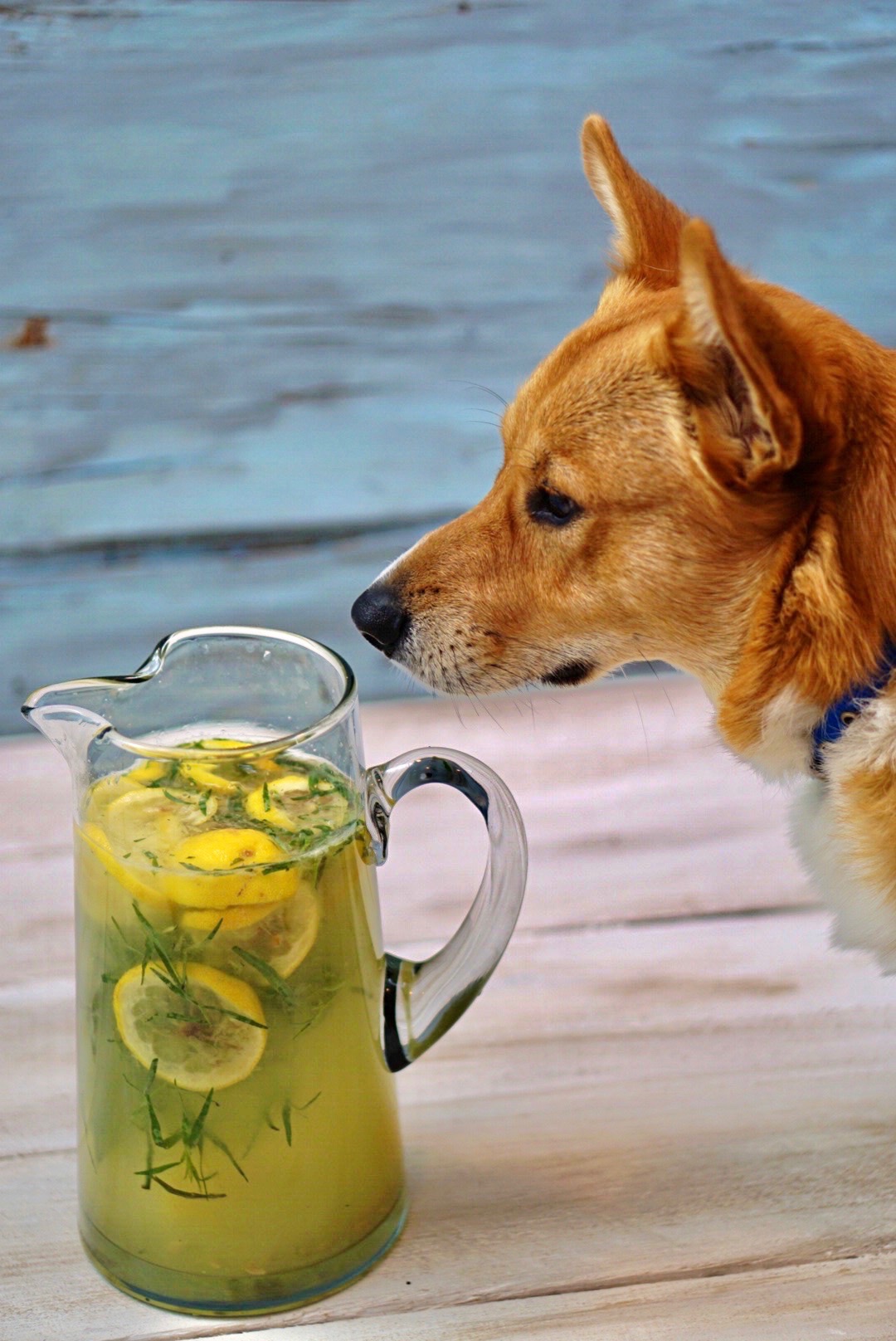 Leo the corgi loves lemons! I had to banish him from the studio so that he didn't drink from the pitcher and get tipsy from the cocktails!
I am excited about this cocktail. Let me know if you love it as much as I do!
Tarragon Gin Lemonade
To make this drink family friendly, simply omit the gin and the elderflower liqueur!
Ingredients
2

Lemons

Sliced

10

Sprigs

Tarragon

1/2

Cup

Sugar

3

Cups

Water

2

Cups

Fresh lemon juice

2 1/4

Cups

Gin

3/4

Cup

Elderflower Liqueur
Instructions
Put sliced lemons, tarragon sprigs and 1/2 cup of sugar in a bowl or pitcher. Muddle together firmly but don't emaciate the tarragon. Bruise it.

Add the water, fresh lemon juice and 2 cups of sugar. Stir until sugar dissolves.

Add gin and elderflower liqueur stir well.

Strain into a highball glass with ice or fill a shaker halfway with ice. Shake 4-6 ounces in a shaker cup and strain into a cocktail or martini glass. Garnish with tarragon and a lemon wedge