Give your mule a little kick by making it a Blackberry Balsamic Mule! The Balsamic adds the perfect flavor to blend with the ginger and the lime.
A new interpretation of a Moscow Mule is always a fun idea! It is my favorite cocktail and is always up for a twist on flavor! This Blackeberry Balsamic Mule is a beautifully balanced blend of flavors. The key is an exquisite balsamic, a great vodka and a craft ginger ale. I love to use vodkas from our local distilleries and I have a couple of favorite ginger ales. Just make sure you really like the ginger ale! I was inspired by the incredible blackberry balsamic from We Olive and Wine Bar.
Why Use Balsamic in a Cocktail?
This post is sponsored by We Olive and Wine Bar in Salt Lake City, Utah. I received the delicious products to review, However, all thoughts and opinions are 100% my own.
Balsamic is thick, sweet and gorgeously glossy. It gives a tangy pleasure to the palate and is a hot commodity in the mixology world. Craft cocktail makers are always trying to find a new way to shake things up for their guests. The broad array of divine balsamics at We Olive and Wine Bar are an inspiration to anyone who likes to create excellent cocktails.
Can There Be Too Much Balsamic in a Cocktail?
Balancing the balsamic in the Blackberry Balsamic Mule took a few tastings. The tastings are the best part of creating a cocktail! I love balsamic and I started with too much then, I leaned toward too little. If you know you like the extra tang in your own cocktail, feel free to add more than this recipe calls for. The recipe below is what I found to be a great balance for the average palate.
It is very important that you use a lovely, sweet bunch of blackberries. Muddle a few in the the bottom of of the mule mug to create a great balance for the blackberry balsamic and the fresh berries.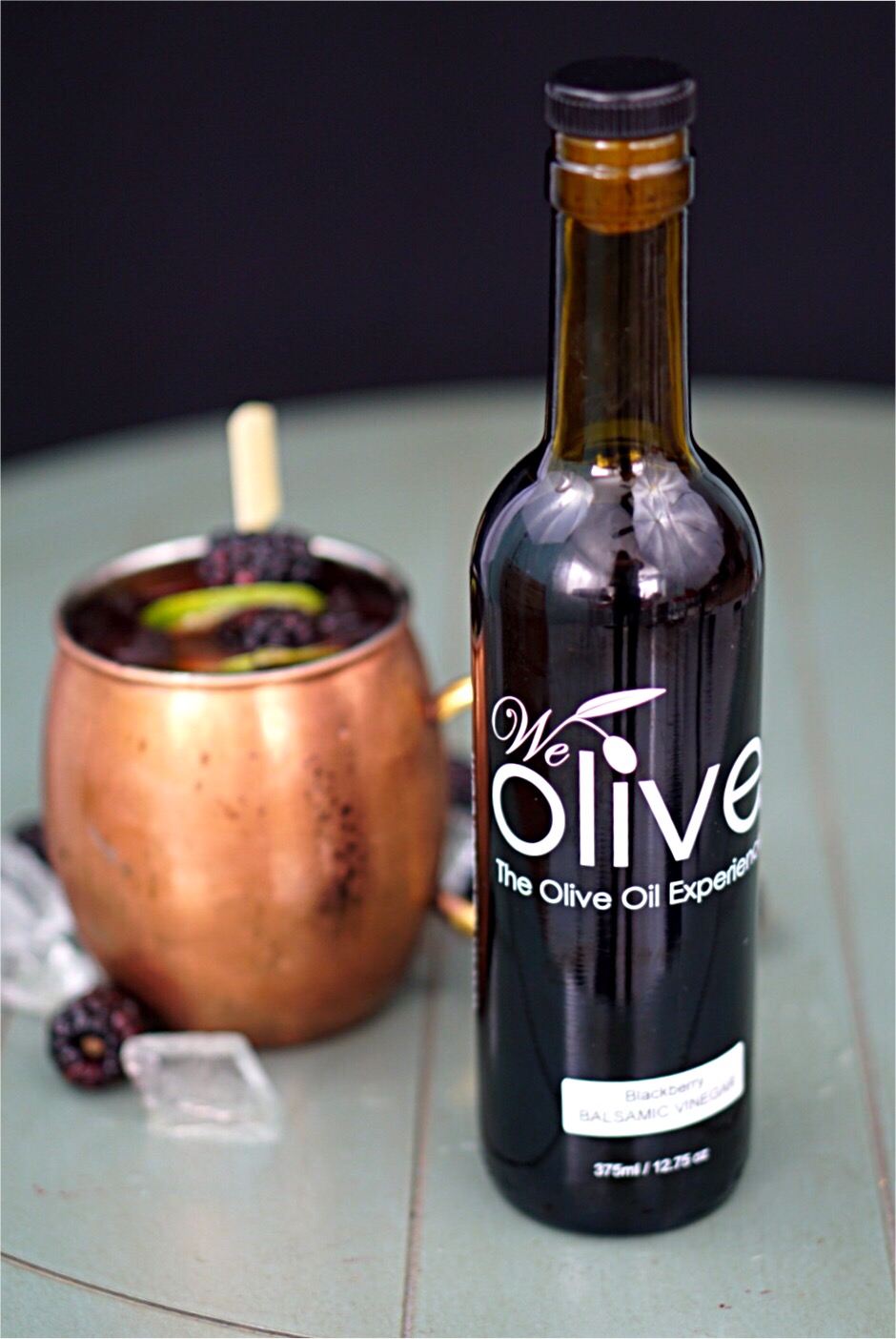 When choosing a balsamic, quality matters. This blackberry balsamic is made from organic blackberries from the coast of California and aged to perfection. I like it in cocktails and drizzled over a yummy vanilla bean ice cream!
Blackberry Balsamic Mule
Give your mule a little kick by making it a Blackberry Balsamic Mule! The Balsamic blends perfectly with the sweet ginger ale to make a delicious cocktail
Ingredients
3-5

Fresh Blackberries

2

tsp

Blackberry Balsamic

1/2

Juice from 1/2 a lime

2

ounces

Vodka

ice

6

ounces

Ginger ale
Instructions
Muddle blackberries in a copper Moscow Mule mug. Add blackberry balsamic, lime juice and vodka

Fill mug with ice and top it off with ginger ale. Fill to the top and stir with a cocktail straw. Garnish with lime wheels and blackberries or crystallized ginger