As spring approaches, my mind finds itself wandering to warm weekends. I am ready for flowers, sunshine and a Peach White Wine Spritzer!
Use a Medium Dry Wine
This refreshing Peach White Wine Spritzer was born of having frozen peaches and one bottle of white wine sitting in my wine fridge.  I wanted to make something light and not too sweet for a small ladies brunch. If I had used a sweet wine and then added peach schnapps and peaches, the drink would have been quite sweet. In other words, if you choose a sweet white wine, you may find it a bit sugary. Choose a white wine on the medium dry side like a chardonnay, a pinot grigio or a dry Riesling for this cocktail.
What is a Spritzer?
To make this drink a spritzer and to add a bit of levity, pour in some club soda. Any kind of sparkling water added to wine is considered a spritzer. The word spritzer is of German origin and means spray or spatter. This is so fitting as the bubbles pop and sends tiny, refreshing spurts of water into your mouth. While I was creating the Peach White Wine Spritzer, I was picturing warm weekends after the yard work is done. Sitting on the back deck and watching the clouds pass overhead means that the drink I want is very refreshing.
Frozen Peaches Make the Best Ice Cubes!
I love fresh peaches! And they would work beautifully in this drink! However, as the days get warmer, so do the drinks we hold. Freeze the peaches for that crisp coldness that makes this drink perfect for warm weather!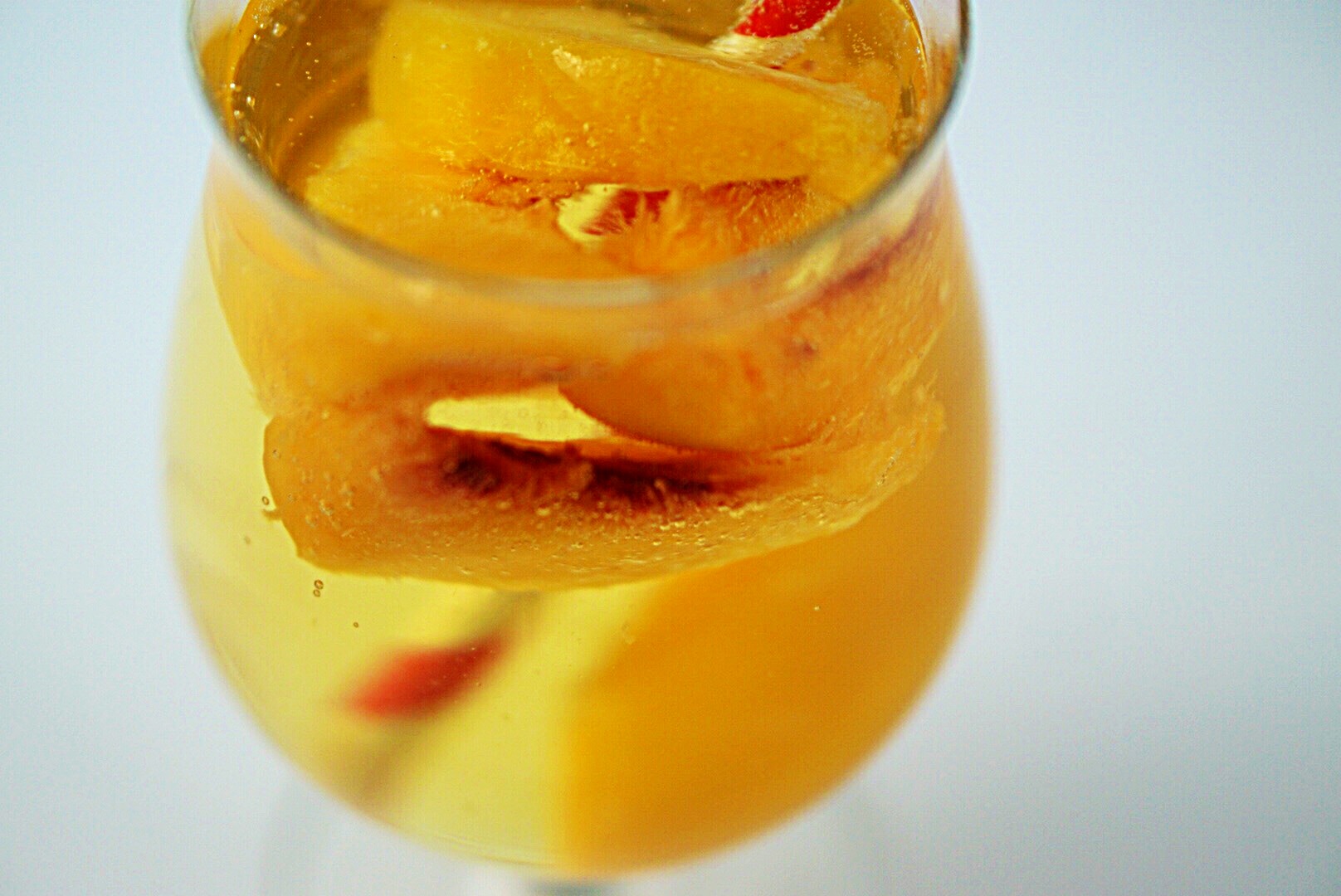 I'm excited that this the Peach White Wine Spritzer was a hit!
Peach White Wine Spritzer
Perfect for a Sunday Brunch. Keep your wine, peach schnapps and club soda very cold. Pour it over frozen peaches for a crisp, light, and fun drink.
Ingredients
3-4

Frozen Peach Slices

1/2

ounce

Peach Schnapps

3

ounces

White Wine

1 1/2

ounces

Club Soda
Instructions
Place frozen peaches, schnapps, white wine and club soda in the glass and stir.