Pumpkin Pie Infused Vodka is simple to make and brings with it the scents and feelings of a cozy autumn evening in front of the fire.
I love pumpkin pie. I only eat it in the fall and throughout the holidays leaving the rest of the year pumpkin pie-less. The idea of Pumpkin Pie Infused Vodka makes me feel warm and fuzzy inside. I can smell autumn in the air by just thinking about it.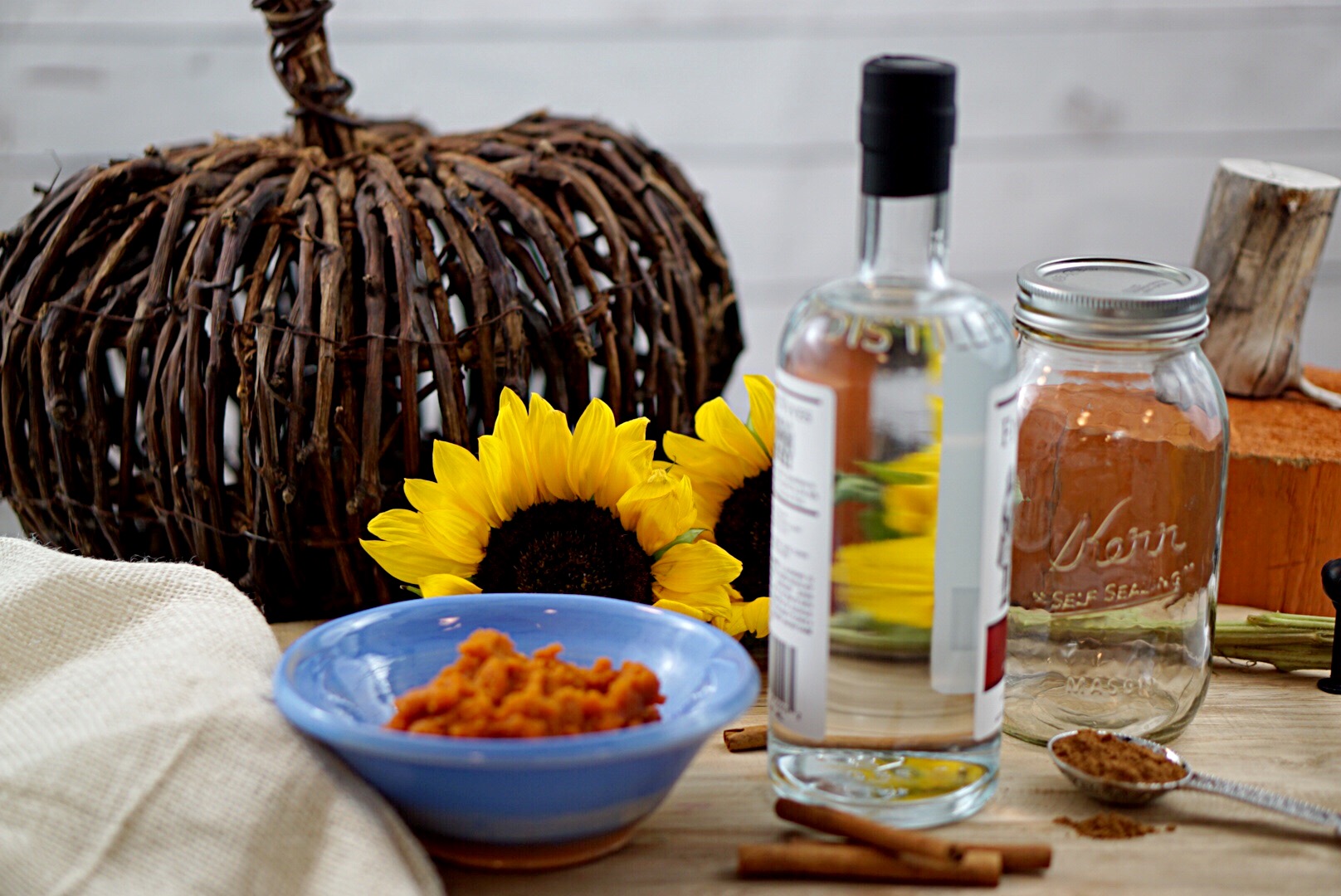 What to do with Pumpkin Pie Infused Vodka?
There are some fun ways to use this lovely concoction in cocktails. For example, a pumpkin pie martini, a pumpkin pie shot or a spiced pumpkin cocktail are all perfect on a chilly evening. The spices arouse your senses while the vodka warms your tummy. It's perfect for any season that leaves a chill in the air.
I used canned pumpkin and the same spice blend that I use when I bake a pumpkin pie. I love to use local products so when I reach for a vodka, I grab one from a Utah distillery.
I do enjoy Five Wives vodka, not just for the name but also for the clean, crisp flavor that doesn't burn off your uvula on the way down.
Why do I have to shake my Pumpkin Pie Infused Vodka so much?
It is important that you shake this jar of goodness as many times as you can. At least twice per day but I do it every time I open the refrigerator. This is the key to infusing the flavors.
What will you make with your Pumpkin Pie Infused Vodka?
Pumkin Pie Infused Vodka
The flavor of a pumpkin pie in a ready to use vodka
Ingredients
1

Cup

Pureed Pumpkin

1

tsp

Ground Cinnamon

1/2

tsp

Ground Ginger

1/2

tsp

Ground Nutmeg

1/2

tsp

Ground Allspice

1/2

tsp

Ground Cloves

1/2

tsp

Ground Cardamom

750

ml

vodka
Instructions
Place pureed pumkin, spices and vodka in a quart jar. Shake well and place in the refrigerator for 3 days. Be sure to shake it at least twice daily. Taste it to be sure it is to your liking. You can leave it to infuse for up to 5 days. To strain the pumpkin, use a fine mesh strainer or cheese cloth. Strain it into another jar and refrigerate. It can keep for 4-5 months.

You can substitute 1 tablespoon pumpkin pie spice and 1/2 teaspoon of cardamom for the spice blend.