Barb's Amaretto Kiss aka Cran-Cherry Amaretto Kiss has a unique twist of cherry to enhance the amaretto. It pulls the flavors together so that this drink dances across your tongue and makes your lips smile.

Barb's Amaretto Kiss
I wanted to make a birthday drink for my dear friend, Barb, but it needed to be perfect! I know that she loves amaretto and vodka which lead me to do a twist on an Amaretto Kiss. That part was easy but how to make it uniquely Barb?
Which flavors pair well with Amaretto?
I also wanted a flavor that brought it all together. My mother used to make a cherry almond tart, and that lead me to cran-cherry because the almonds and cherries are perfect together. This is how the Cran-Cherry Amaretto Kiss came to be.
Why make a pitcher of cocktails?
Barb's Amaretto Kiss, aka Cran-Cherry Amaretto Kiss, also needed to be in a large pitcher so that it can serve many. Barb is warm and welcoming and often has her friends over for food, drinks, crafting or just hanging out on the deck watching the sunset.
She is someone who is always willing to help whether it is watching a sick dog, helping with kids, bringing food when illness has left one of us in bed or to be a listening ear.
Cocktails and Friends!
Barb is incredible in so many ways. She is highly intelligent and always wants to learn. She's both humble and a natural leader.
She is creative, fun, loving, and kind. Her beautiful family is her world, and it shows on the faces of her "men" (which is what calls her husband, Sam and their two boys Rhett and KJ.)
Barb adores her dog Luna who is the sweetest dog alive. She's a Bernese Mountain Dog who is lucky to have a mom that is also addicted to hiking!
I feel so grateful to have Barb and the rest of our Tribe, in my life. These strong, amazing women help keep me grounded and sane in this crazy world.
Having these close, strong, steady friendships can be a miracle in a time of life that is overrun with responsibilities. We can lose touch with what it means to have people in our lives that have our backs.
Happy Birthday, Barb! I hope that Barb's Amaretto Kiss gives you some of the same warm fuzzies that you give to the people in your life! You are wonderful and you are loved!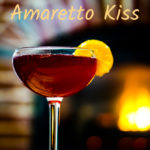 Cran-Cherry Amaretto Kiss
Ingredients
5

Cups

Cran-Cherry Juice

3

Cups

Vodka

1 1/2

Cups

Amaretto Liqueur

1/2

Cup

Prepared Orange Juice

Garnish

Candied Mandarin Oranges
Instructions
Start a party! Birthday or otherwise.

In a very large pitcher combine all of the ingredients, stir, and refrigerate until ready to use.

Add ice to a shaker cup. Stir the contents of the pitcher and pour 4-6 ounces (depending on glass size) into the shaker cup.

Shake well and strain into a cocktail glass

Garnish with candied mandarin orange or an orange slice