This Pumpkin Pie Martini tastes like the holidays! It is sweet, creamy, and full of wintery spices. Light a fire and grab your favorite throw. You'll want to savor every sip.
What is in a Pumpkin Pie Martini?
Since the leaves started changing and the air became crisp, I have been obsessed with Pumpkin Pie Infused Vodka.
With the holidays swiftly approaching, I am putting it in a lot of my cocktails.
First, because pumpkin is amazing. Next, because it makes me excited to think of watching the snow fall outside my windows. Finally, it gets me into the spirit of the holidays.
Sometimes, we need a bit of a boost to get us into the spirit of the holidays. Flavors and smells can bring back memories of happy times. That is what this Pumpkin Pie Martini does for me.
When should I have a Pumpin Pie Martini?
One of my favorites cocktails has been the Pumpkin Pie Martini. It is creamy, boozy and perfectly spiced! It honestly tastes like a pumpkin pie in a glass with a kick!
I absolutely love it, and so does my husband! We often drink it as an after-dinner treat or as a special cocktail for a lazy Sunday afternoon.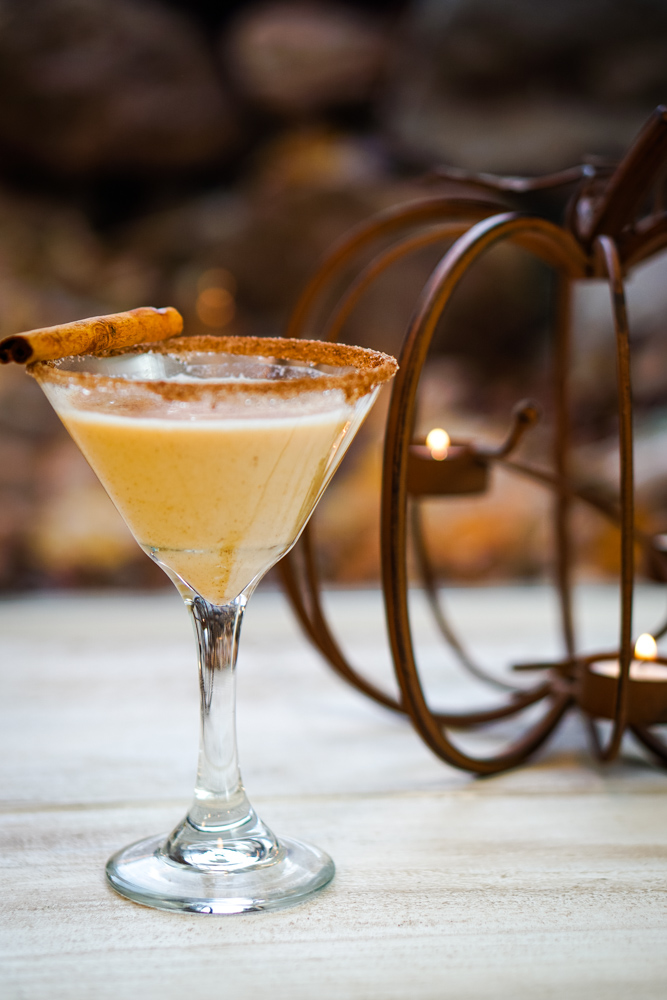 Perfect cocktail for the holidays!
I was very excited to write up the recipe for this Pumpkin Pie Martini. Ther is maple syrup in it for a little extra pizzazz!
I love that the rim is done with maple syrup and dipped in cinnamon and sugar. The problem is that it is not very pretty to photograph, but it tastes so good that I did it anyway!

How will you dress up your Pumpkin Pie Martini?
Make the Pumpkin Pie Martini your own! You could easily top it with a dollop of whipped cream! I love it with a dusting of cinnamon, but I am obsessed with cinnamon.
How you dress up your Pumpkin Pie Martini is entirely up to you but no matter what you do, you will love this holiday cocktail!